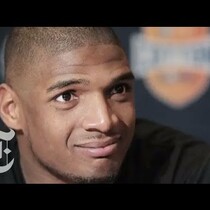 Posted February 10th, 2014 @ 11:58am
University of Missouri and future NFL defensive lineman Michael Sam recently became the first active male major sports athlete to come out publicly as a homosexual.
Sam was the 2013 defensive player of the year and currently plays in the most competitive conference in college football, the SEC. Needless to say, Sam is currently breaking down the "girly" and "sissy" stereotypes associated with homosexual males.
While many are confused as to why Sam is making these statements so close to the 2014 NFL draft, the only one who does not seem to be confused is Sam himself: "I just want to make sure I could tell my story the way I want to tell it…I just want to own my truth."
Source: Redeye and Youtube