Boy George reveals dramatic weight loss.
Boy George shocked fans when he posted a photo of himself on Twitter, which showed off his impressive weight loss.
"Rock n roll Sunday," the British singer tweeted on Sunday, and shared a picture that highlighted his much-thinner physique. The 51-year-old star looked more like his younger self at the height of his fame in the 1980s, than how we've seen him in the last few years.
The singer credits his new slim body to a weight-loss program called Freer Nutrition, which he called his "secret." The Culture Club singer has also been documenting his new healthy lifestyle, including his fondness for exercise and a recent healthy breakfast:
"Mmm, porridge with cherries & a dash of cinnamon! Cook the cherries with the porridge! Bloody gorgeous!" he tweeted on Feb. 8.
The singer also seemed quite pleased that news of his weight loss was buzzing online,as he tweeted, "I love that the size of my ass is trending worldwide!"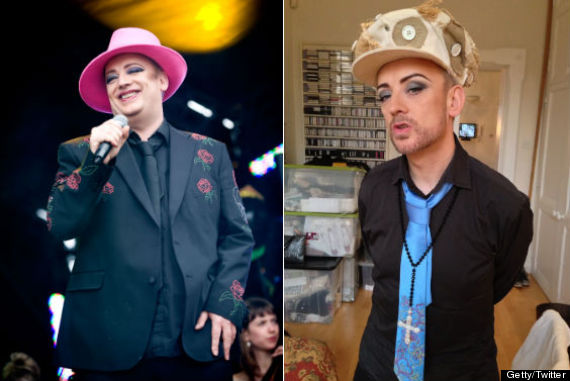 Joe has been doing radio for 35 years and does weekday afternoons on V-103 from 2p-7p. He also does the "Back in the Day" show on Saturday evenings from 5 to 10pm.He is a native Chicagoan who graduated from Farragut High School on the West-side and Daley College on the South-side where he received his Associate of Arts Degree. Joe then moved to DeKalb where he earned his Bachelors in Radio, Television and Film at Northern Illinois University. Joe has been married to wife Darlene for 21 years. They have 2 daughters and a son. Sonia, Samantha and Sonny. They also have 2 dogs. Katie and BJ.Aside from his family and radio, baseball is his passion. He plays for The Angels (38's) and Braves (48's) of The Roy Hobbs League. He has won National Championships with teams out of Dallas and Memphis.Joe teaches Announcing and History of Radio at Kennedy King College. He is also the Lector Coordinator at St. Leonard's Church in Berwyn, Illinois.Joe's favorite movie is The Godfather. His favorite sports team is the Chicago Cubs. His favorite musical groups are Santana and Steely Dan and his favorite color is blue. He's also quite fond of leopard print.You can also catch up with @joesotov103 on Twitter and Joe Soto on Facebook.