Chicago woman allegedly beats Mother to death on Mother's Day weekend.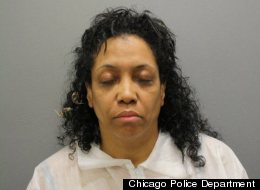 A 51-year-old Chicago woman has been charged with beating her 82-year-old mother to death on Mother's Day weekend.
Janette Glenn was charged with first-degree murder in the death of her mother Catherine Glenn, who was found dead inside a closet in her South Shore home in the 7800 block of South Euclid Avenue just before 8 a.m. on Sunday, according to DNAinfo Chicago.
The Cook County Medical Examiner's Office ruled that Glenn died of multiple blunt force injuries caused by an assault.
According to the Chicago Tribune, Janette Glenn lived in the home with her mother, who had just celebrated her 82nd birthday on Saturday. She was arrested while walking on Rainbow Beach Park.
Daughter Cathy Glenn previously described the death of her mother -- a breast cancer survivor -- as "the worst Mother's Day."
Janette Glenn was expected to appear in bond court later Tuesday.
HUFFPOST:

Joe has been doing radio for 35 years and does weekday afternoons on V-103 from 2p-7p. He also does the "Back in the Day" show on Saturday evenings from 5 to 10pm.He is a native Chicagoan who graduated from Farragut High School on the West-side and Daley College on the South-side where he received his Associate of Arts Degree. Joe then moved to DeKalb where he earned his Bachelors in Radio, Television and Film at Northern Illinois University. Joe has been married to wife Darlene for 21 years. They have 2 daughters and a son. Sonia, Samantha and Sonny. They also have 2 dogs. Katie and BJ.Aside from his family and radio, baseball is his passion. He plays for The Angels (38's) and Braves (48's) of The Roy Hobbs League. He has won National Championships with teams out of Dallas and Memphis.Joe teaches Announcing and History of Radio at Kennedy King College. He is also the Lector Coordinator at St. Leonard's Church in Berwyn, Illinois.Joe's favorite movie is The Godfather. His favorite sports team is the Chicago Cubs. His favorite musical groups are Santana and Steely Dan and his favorite color is blue. He's also quite fond of leopard print.You can also catch up with @joesotov103 on Twitter and Joe Soto on Facebook.