Chicago's Urban Prep High Schools sending entire Senior class to College.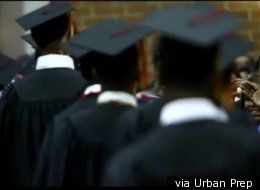 For the third year running, an all-male charter school with students from Chicago's roughest neighborhoods is sending its entire senior class to college.
Urban Prep Academy reports that all 85 seniors graduating from the all-male preparatory school have been accepted to four-year colleges or universities, the third consecutive year an entire senior class has gotten acceptance letters along with their diplomas.
This year's class also has some standout stars, like Vernon Cheeks, 17, who was accepted to 14 schools, according to CBS Chicago.
"It taught me how to be resilient. It also taught me how to be accountable for my own actions," he told the station of his experience in the standout high school program.
Urban Prep's success is unusual in its West Side neighborhood, which sees disproportionately high rates of violent crime so severe that parents requested heightened protection for academy students earlier this year, amid concerns that gang territories were advancing on the school.
"[In] this volatile, violent area, these are like lambs surrounded by wolves, and that shouldn't be," the grandmother of a student told ABC Chicago.
The school's success has grown exponentially since its founding in 2006, when onlyfour percent of the school's first freshman class was reading at grade level when they entered.
In 2010, the school sent all 107 graduating seniors directly into college or university programs for the first time.
"No other public [school] in the country has done this," Urban Prep Academy Founder Tim King said at the time. Continuing that success in 2011 and 2012 makes the school's performance even more remarkable.
The school also boasts an impressive "persistence" record this year--83 percent of 2010 Urban Prep graduates who went on to college have stayed there, compared to a national average of 35 percent among African-American males, according to the Chicago Tribune.

Joe has been doing radio for 35 years and does weekday afternoons on V-103 from 2p-7p. He also does the "Back in the Day" show on Saturday evenings from 5 to 10pm.He is a native Chicagoan who graduated from Farragut High School on the West-side and Daley College on the South-side where he received his Associate of Arts Degree. Joe then moved to DeKalb where he earned his Bachelors in Radio, Television and Film at Northern Illinois University. Joe has been married to wife Darlene for 21 years. They have 2 daughters and a son. Sonia, Samantha and Sonny. They also have 2 dogs. Katie and BJ.Aside from his family and radio, baseball is his passion. He plays for The Angels (38's) and Braves (48's) of The Roy Hobbs League. He has won National Championships with teams out of Dallas and Memphis.Joe teaches Announcing and History of Radio at Kennedy King College. He is also the Lector Coordinator at St. Leonard's Church in Berwyn, Illinois.Joe's favorite movie is The Godfather. His favorite sports team is the Chicago Cubs. His favorite musical groups are Santana and Steely Dan and his favorite color is blue. He's also quite fond of leopard print.You can also catch up with @joesotov103 on Twitter and Joe Soto on Facebook.