IT LOOKS LIKE THE FIRST LADY GAVE SPEAKER BOEHNER THE TWIST MOUTH AND THE ROLL EYE... SHE WAS LIKE, I'M EATING MY SALAD, YOU BETTA GET OUT MY FACE CAUSE I'M WITH MY HUSBAND WHO IS WHO, THE PRESIDENT, WE WON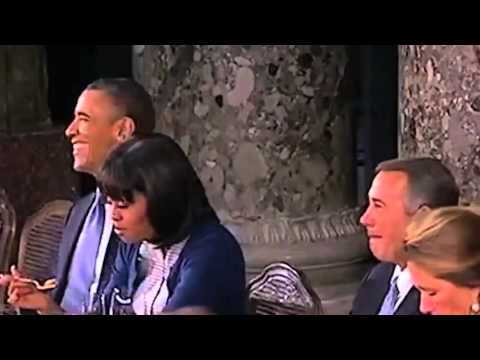 First lady Michelle Obama rolls her eyes at House Speaker John Boehner during inaugural luncheon
ACCORDING THE NYDAILYNEWS.COM
It was the body language heard around the world.
First lady Michelle Obama was captured on video rolling her eyes twice in response to something House Speaker John Boehner said to her husband at the president's Inauguration Day luncheon in the Capitol Building on Monday.
While the substance of Boehner's comments has not been revealed and cannot be heard in the clip, the first lady's response to them has become the subject of intense fascination since Tumblr blogger Mattyrab first posted the video.
FOR REST OF THE STORY, CLICK HERE
HERE'S THE VIDEO