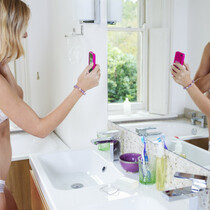 Posted August 11th, 2013 @ 7:25pm
When New York politician Anthony Weiner was caught sexting behind his wife's back for the second time (he sent dirty texts to Sydney Leathers using the nickname Carlos Danger, and no, we're not making this up) we thought: there goes a man who needs a good sext guide.
Sexting is a practice you tend to hear about usually when celebrities, politicians or sports personalities get it horribly wrong, and usually when the other person has revealed all.
But we're not so far removed from famous folk that the rules of sexting don't apply to us too. After all, most of us have phones which a)can text and b)take photos.