Each year on Thanksgiving, families and friends across the country gather to give thanks, watch football, and eat a lot of food. From turkey, to stuffing, to pumpkin pie, to sweet potatoes, and more, many will be chowing down on a lot of traditional Thanksgiving food. But, what about the non-traditional families?
There are some extreme Thanksgiving foods out there, and we're not just talking about deep fried turkey (mmm). Have you ever tried bacon wrapped turkey? No? What about a chicken stuffed into a duck stuffed into a turkey? AKA the Turducken.
Take a look at some of the most outrageous, unique and downright delicious Thanksgiving foods below.
1. Turbacon
Photo: Flickr/Laura D'Alessandro
Bacon wrapped turkey.
2. TurDunkin'
Photo: Flickr/Beth
A turkey brined with orange and strawberry Dunkin' Coolatas, glazed and covered with rainbow sprinkles.
3. Stuffing Waffles
Photo: Flickr/Two Red Bowls
Turn leftover Thanksgiving stuffing into waffles and top it off with mashed potatoes and gravy.
4. Sir Plumple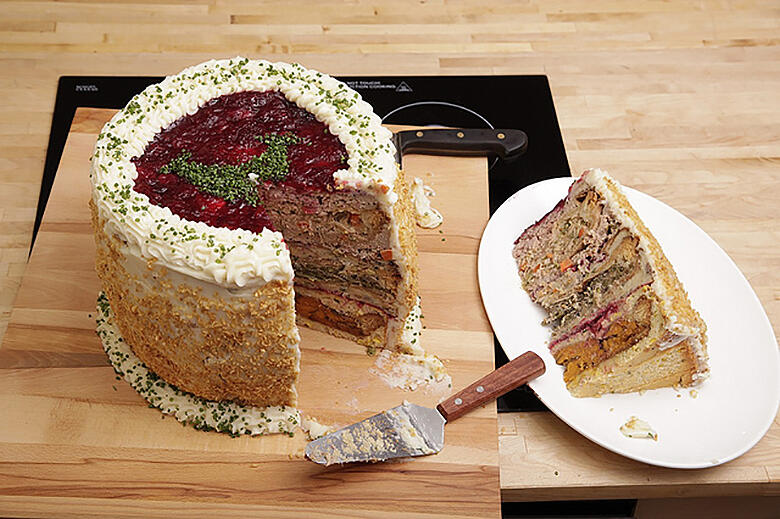 Photo: Serious Eats
Serious Eats'  Thanksgiving-inspired Cherpumple. A Cherpumple is three layers of pie--pumpkin, apple and cherry, each baked into a layer of cake-spice and respectively stacked on top of each other.
5. Sweet Potato Donuts With Toasted Marshmallow Fluff and Cashew Crumble
Photo and Recipe: Brooke Bass for Chocolate and Marrow
The best part? The homemade marshmallow fluff meringue.
6. Duchikey
Photo: Flickr/Joy
Pounded duck breast, a layer of stuffing covered with chicken thighs, another layer of stuffing, and a layer of turkey cutlets.
7. Turkey, Stuffing and Cranberry Sandwich
Photo: Getty Images
Put your leftover Thanksgiving feast between bread for a savory sandwich.
8. Veggieducken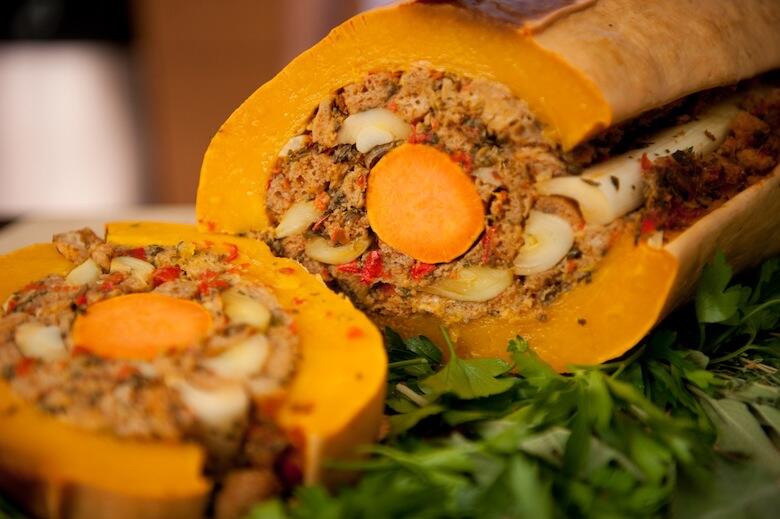 Photo: Flickr/The Sporkful
Instead of meat, veggieducken puts yams inside of leeks inside a banana squash, with vegetarian stuffing between each layer.
9. Latke-Crusted Turkey Stuffing Fritters With Cranberry Core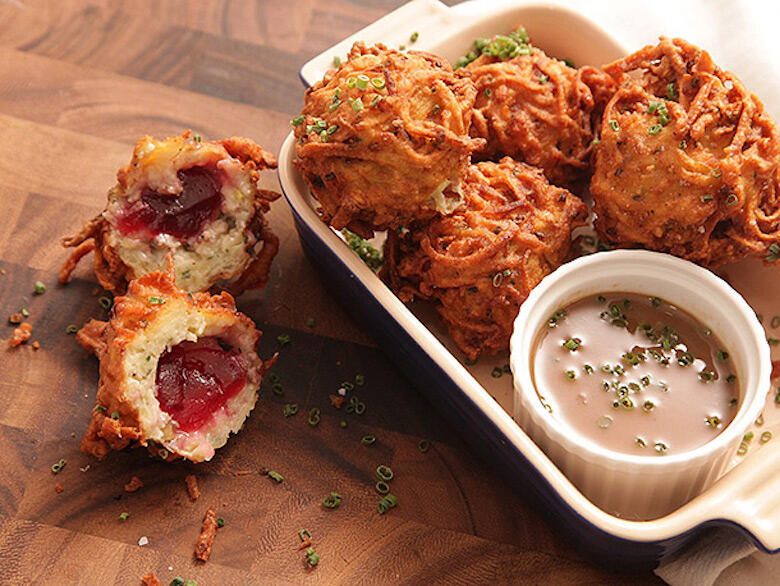 Photo: Serious Eats
Enjoy these fritters with turkey schmaltz gravy.
10. Cranberry Pumpkin Upside Down Cake
Photo: Flickr/Jessica and Lon Binder
11. Tofurkey
Photo: Getty Images
Vegan tofu turkey.
12. Pumpkin-Cinnamon Streusel Buns
Photo: Flickr/Emily Carlin
Perfect for a fall morning.
13. Pumpkin Raisin-Bread Pudding
Photo: Flickr/Emily Carlin
14. Mini Pumpkin Mousse
Photo: Flickr/She Paused 4 Thought
Can't get more adorable than this tiny pumpkin mousse cup with pureed cranberries at the bottom.
15. Pumpkin Marshmallow Chocolate Chip Cookies
Photo: Flickr/Kelly Garbato
Not even the Stay Puft Marshmallow Man himself can resist this gooey sweet treat.
16. Pumpkin Gingersnap Ice Cream
Photo: Flickr/Tracy Benjamin
17. Turkey Cranberry Meatballs
Photo: Flickr/Tracy Benjamin
18. Pumpkin Cheesecake Swirled Brownies
Photo: Flickr/Isabelle Boucher
Brownies and cheesecakes are delicious on their own, but when you put them together? *chef's kiss*
19. Fried Turkey
Photo: Getty Images
Crispy and delicious.
20. Foie gras, Cranberry Chutney and Jelly
Photo: Getty Images
21.Food52's "Clananafouti Swamp Monkey"
Photo:Food52
It included Raspberry Swamp Pie, Ginger Monkeybread, Cherry Clafouti, and Tender Yellow Cake, Banana Meringue Pie and Mille Crepes with whipped cream!
22. Bacon Apple Pie
Photo: Flickr/Alex Torrenegra
Traditional apple pie with a hickory-smoked bacon lattice on top.
23. Turkey Cranberry Quesadillas
Photo and Recipe: Little Dairy On The Prairie
Just another way to kick your leftover game up a notch.
24. Flamin' Hot Cheetos Turkey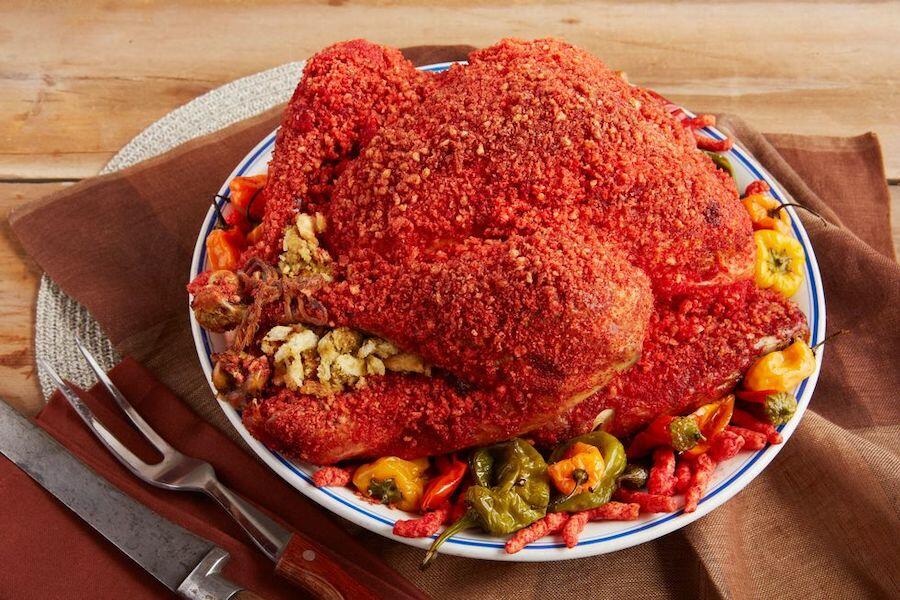 Photo and Recipe: Reynolds Kitchens
If you're looking for a new way to heat up a traditional Thanksgiving turkey.
25. Red Hot Oyster + Kimchi Dressing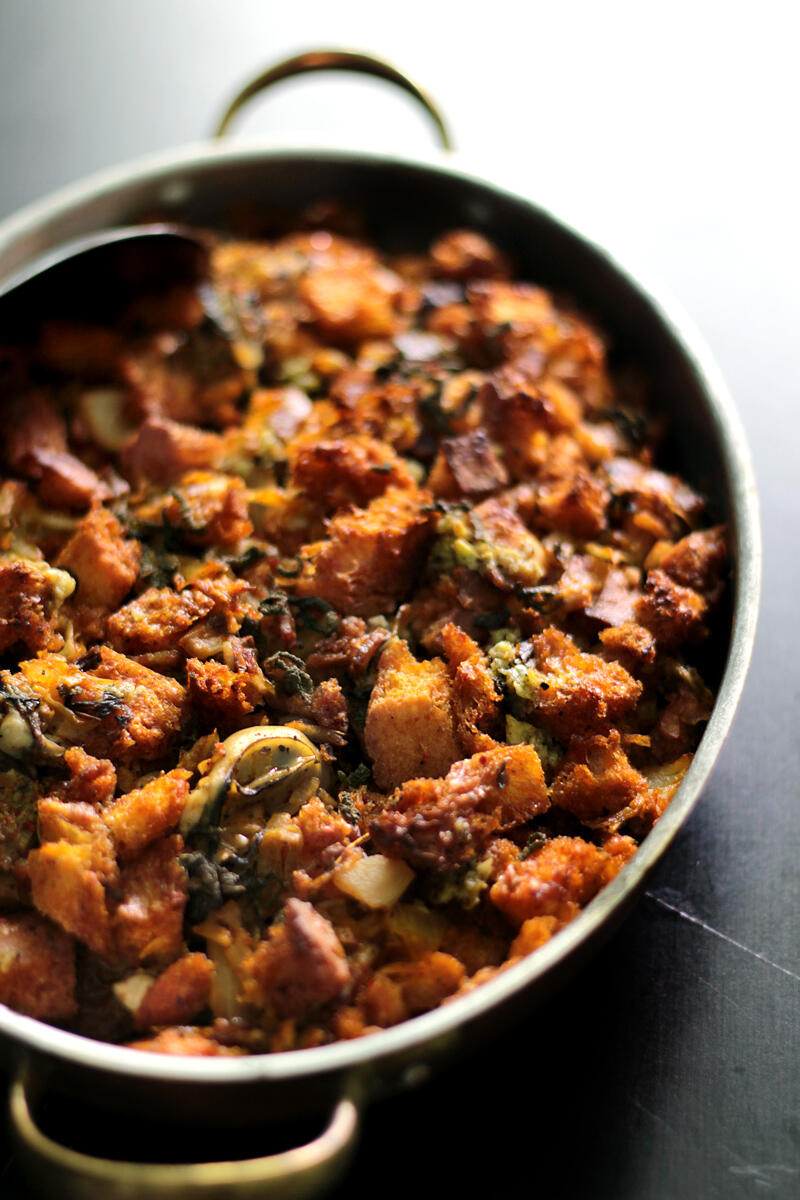 Photo and Recipe: Mandy Lee for Lady and Pups
All of the flavors of your traditional stuffing with a little something extra!